To further confirm that the "Natural Herbal Tea" can effectively improve the glycated hemoglobin value of diabetic patients, the Association and Hefei Changgeng Hospital of Wuhan Changer Medical Group conducted a clinical trial study from October 10 to October 30, 2018. Under strict monitoring, ensure that all type 2 diabetes patients are under the same conditions and receive the same care, including the drinking of "Natural Herbal Tea", the time, the diet and the exercise. The same testing equipment to verify the effectiveness of "Natural Herbal Tea".  To ensure the credibility of this clinical trial, an Independent Monitoring Committee comprises of over 20 experts and persons from different countries to monitor the entire clinical trial being processed according to established procedures in Hefei Changgeng Hospital. The Independent Monitoring Committee will randomly collect the "Natural Herbal Tea" and food that are served to the patients and these samples will be tested by international qualified laboratories to confirm that these tea and food do not contain any blood sugar control medicines or heavy metal substances, ensuring that the objectives of clinical trial are achieved. This project adheres to the charity principles of the Association that all patients are free of charge.
Interventional Treatment Method

The "Natural Herbal Tea", manufactured by Natural Herbal Center Ltd., is the key to this clinical trial. This Tea has passed the Hong Kong Standard Test and its formula contains natural herbs such as green tea, burdock, black fungus, and Cordyceps etc.
Its ingredients are certified by the Hong Kong government-approved Castco Testing Center Ltd. and the Anhui Food and Drug Inspection Institute of China, that does not contain other hypoglycemic ingredients drug or food, does not contain harmful substances, meets national standards, and is safe to drink.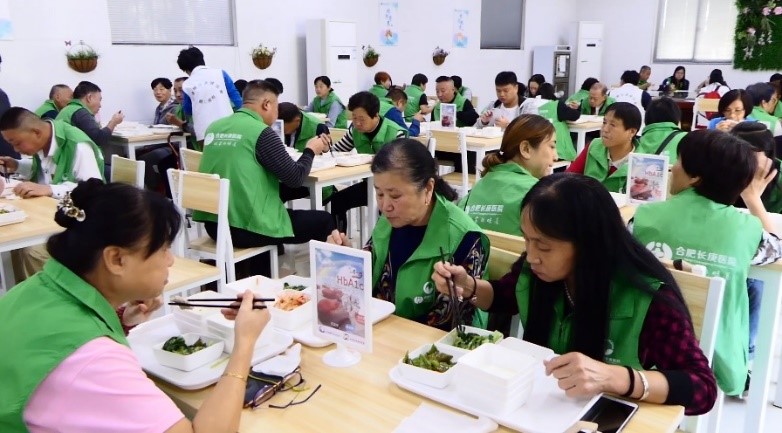 Result of the Clinical Trial Study
Figure (B) shows the result of change in glycated hemoglobin after patients with type II diabetes finished the 20 days diabetes management program.
Decline in Glycated Hemoglobin(HbA1c)
Total number of HbA1c declines
Glycated Hemoglobin(HbA1c) Comparison (Value)
The glycated hemoglobin value (M=7.01, SD=1.52) of the patients was lower than that at admission (M=7.97, SD=1.79), and the difference was significant (t (58) = 10.32, p < .01). Therefore, we can conclude that after 20 days' consumption of Natural Herbal Tea, together with appropriate diet and exercise can effectively improve the glycated hemoglobin value of diabetic patients.